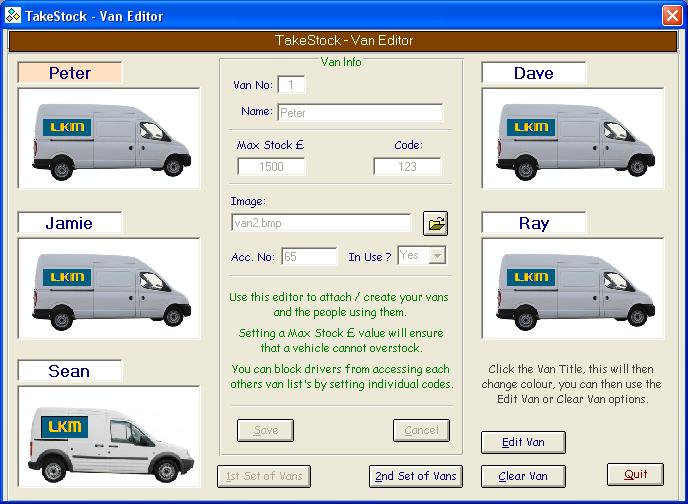 Van Module Introduced !
So you have vans on the road, find it hard to keep up with tabs of it all ? TakeStock EPOS offers you the latest innovative solution.
Not only can you now see live stock levels, you can also create automatic job cards, detailed van reports, stock verifications but you can also create instant account holder invoices..

Detailed Van Stock
The system will now allow you to create up to 10 individual vans.
Each with their own van stock lists, van stock valuations and even van movement reports.

Job Sheets
TakeStock EPOS also allows your driver's to produce instant job cards.
Assigning stock to a job card is quick and easy.
Invoices for both cash and account customers are instant.

Drivers are left to do their work, not paperwork.

Stock Assignment
From within the daily sales screens, van drivers can quickly and easily move stock both in and out of their van.

You can also perform instant stock checks from the daily sales screen to see which van has a given item on it.

Detailed Analysis
It is vital that you know where all your stock is and how much it is worth.
Why order more if you have three / four vans full of the stock you need?

Well with TakeStock EPOS, you can know this instantly.
Newsletter sign-up
We have new talented people and technologies every week, so stay in touch!